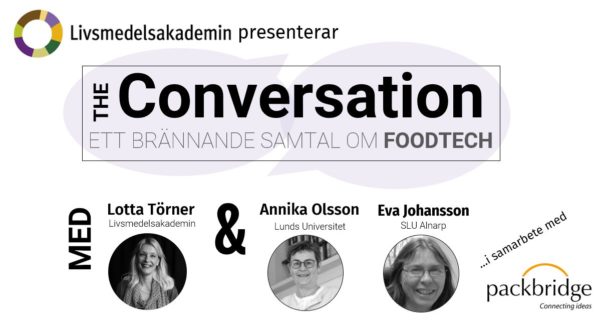 Den 24 mars är det urpremiär för Livsmedelsakademins nya samtalsserie The Conversation. Det blir ett brännande samtal om Foodtech med Eva Johansson, professor i växtförädling på SLU och Annika Ohlsson, professor i förpackningslogistik på Lunds universitet.
Ett brännande samtal om foodtech
Foodtech handlar om innovationer, där digital teknik förändrar hur vi producerar, distribuerar och konsumerar mat. Det kan röra sig om nya tekniker för odling och förädling, digitala lösningar för försäljning av överbliven mat eller för hållbara förpackningar. Utvecklingen drivs av megatrender, såsom befolkningsökning, urbanisering och ökat fokus på hälsa och miljö.
Tid & plats
24 mars kl. 15.00 – 16.30, varav den sista halvtimmen är fika och mingel.
Plats: SLU, Lokal Crafoordsalen, Navet, Sundsvägen 14, Alnarp.
Kostnad: evenemanget är gratis för partner till Livsmedelsakademin och Packbridge. För övriga kostar det 300 kr per person.
The Conversation är Livsmedelsakademins samtalsserie om brännande frågor kring framtidens mat, dryck och måltid. Den här gången är det ett samarrangemang med Packbridge.